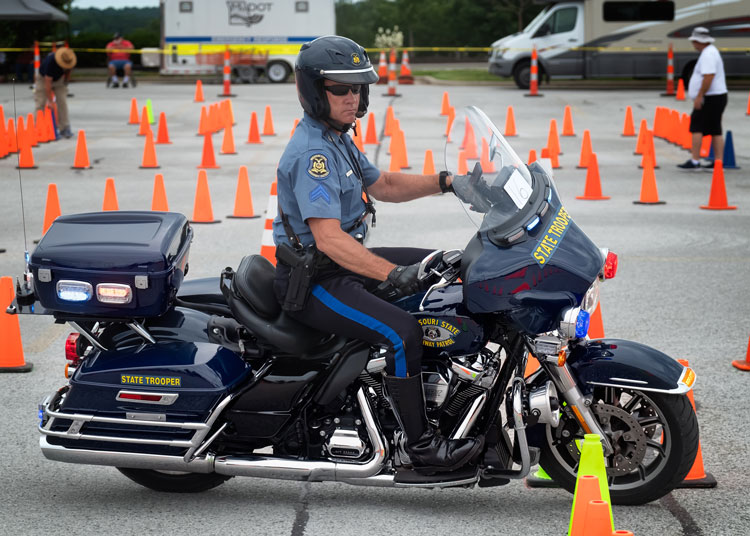 Motorcycle Training – Day 1 (Course Instruction)
7th Anuual Advanced Motorcycle Training in Branson, Missouri
June 12 –13, 202

Classroom/course familiarization – Friday, June 12, 0800 – 1200 hours
Scoring to begin at 13 hours hours on Friday and conclude at approx. 1700 hours. This will include individual and team events.
Practical course competition – Saturday, June 13, 0800 – completion
This year there will be 2 courses – Expert/Advanced & Novice/Motor Officers and 4 divisions – Expert/Advanced, Motor Officer, Open, and Top Gun
Please register by June 11, 2020.
Representatives from several law enforcement agencies will converge on Branson, Missouri competing in the Seventh National Law Enforcement Week Motorcycle Training.
This event is coordinated by the Missouri State Highway Patrol (MSHP). It will be one of the largest motorcycle safety skills training event held in Southwest Missouri and will attract a large segment of the law enforcement community, as well as, members of the general public.
Media Notes
News media will find photo opportunities at Friday practice – 1:00 pm and 4:00 pm.
Police Motorcycle Challenge Training
Benefit of competitive training
Officers are required to maneuver their motorcycle through the cone patterns without missing any gates, touching cones or putting a footing down. Severe penalties will be assessed for any infraction of these basic rules during training.
What's it about?
Competitive based Police Motorcycle training increases the Officer's aptitude to safely perform their job in real-life conditions, such as being faced with emergency riding situations. The human body does not distinguish between the hormones that are released during a competitive event versus the ones released during any form of emergency. The goal of this type of training is to increase the skills and confidence of each rider. Motor Officers who train on a regular basis have a better chance of succeeding when faced with adversity in the performance of their duty.
This training will be open to the public for their viewing pleasure. This will allow and add an element of stress; simply due to the fact there could possibly be hundreds of eyes focused on the rider during the practical portion of course training. The presence of the crowd creates additional stress for the Officer to perform at his/her absolute best.
This style of training has been widely used across the United States for the past 25 years. Participating in this style of training helps the Officers achieve higher levels of motorcycle riding proficiency, mental clarity, and calmness under pressure. Learning to deal with the stress and pressure of this style of training will help the Officer focus on the task at hand and prepare for real life situations.
Excerpts from: Rodeo Competition
By: S./Sgt. Andy Norrie, Toronto Police